Enterprise Application Development
Sophisticated Enterprise Applications that help run business operations more efficiently.
E-Governance Platforms
Custom platforms/portals based on specific departmental requirements in public facilities.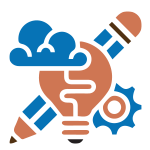 Managed IT Services
Speed up the required transformation in your business while saving cost.
AI & ML Solutions
Intelligent machines that can think, identify issues, and provide solutions just like humans do.